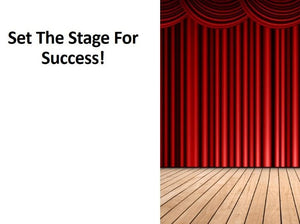 Set Your Stage For Success! Generating Revenue Through Action & Application
You love the Eagala Model. You know what it can do for your clients. But, let's face it, running a business or organization that serves others AND incorporates horses is sometimes daunting. Your list of daily "to do's" can fill up all the hours in a day – and then some!
You might be wondering, is there a way to actually do this work AND be fulfilled, confident and NOT in a constant state of overwhelm?
Yes!
It begins by setting the stage for success, by taking the RIGHT actions and applying your acquired skills and knowledge with the goal of SUCCEEDING.
Join this webinar to:
Get a done-for-you template to get out of "overwhelm" and STAY out Stay out of FOMO (Fear of Missing Out), which can often feed overwhelm Learn a simple strategy to prioritize your days and get MUCH accomplished Clear out all that mental clutter and reframe your thinking for success Take what you've learned, form strategy to move forward and get into ACTION
Hosted by Lora Newman, M.S., LPC, Mastery Certified Coach, Eagala Certified
Cost: $15 
Time: 1 hour 
Eagala CEU hours: 1