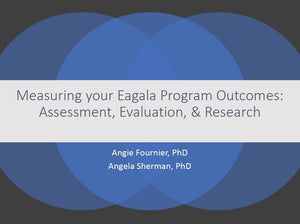 Measuring your Eagala Program Outcomes: Assessment, Evaluation, and Research
As Eagala practitioners, it is a professional standard to measure the work we do - using evidence to inform the process and client progress. It also benefits our programs to have data to share for marketing, funders and referral sources. This webinar will provide introductory information on how to get started measuring outcomes. This program will help you:
Distinguish between assessment, program evaluation, and research Decide what to measure in your Eagala sessions Select a sound instrument to measure the outcome Understand how this relates to client care and monitoring treatment progress
The webinar is presented by Angela Fournier, PhD, LP, Eagala Certified and a professor in the department of psychology at Bemidji State University in Minnesota. As director of Human-Animal Interaction Laboratories, she conducts basic and applied studies into the psychological outcomes of human-animal interaction. Dr. Fournier serves on the Eagala Research Committee, providing support to members regarding student research and assessment.
Cost: $15 
Time: 1 hour 
Eagala CEU hours: 1