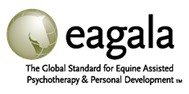 Skillsets Intensive Training
Skillsets Intensive Trainings
For more information on locations and to register click here.
8:30 a.m- 4:30 p.m. daily (Lunches included on days 1- 3.) Please plan on attending the entire time.
This training is limited to those 18 years of age or older. No personal pets are allowed on the premises of the facility.
Prerequisites: Must be currently certified with at least 20 hours of experience with Eagala model work.
We offer a 100% refund up to three weeks prior to the training. After that, refunds are available minus a $200 administrative fee per person. Discounts are available for groups, students, military. 
This training course is broken into 3 different types of activities: discussions, demonstrations, and experiences. You will learn and put into practice the framework and advanced skillsets of the Eagala Model, learn how to apply Eagala model with different populations.
This course is 3 days of on-location hands-on training. Attending the training does not guarantee successful completion of certification. 
To learn more about Eagala Certification please click here