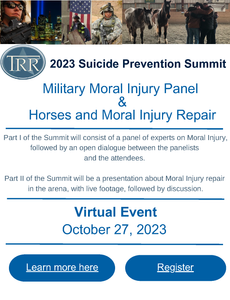 TRR's 2023 SUICIDE PREVENTION SUMMIT
Title: TRR's 2023 Suicide Prevention Summit
Where: VIRTUAL VIA ZOOM
When: October 27, 2023 11:00 AM to 5:00 PM Eastern
Price: Free for those who attend live, $50 fee for those who want access to the recording.
Description: Despite our very best efforts as a nation we are still losing 22 veterans a day to suicide. For the almost 10 years that TRR has operated it's award-winning Warrior Camp® program, we have done so with the understanding that, of more significance than PTSD, it is the unrepaired damage to warriors' hearts and souls – called Moral Injury – that is fueling the high rate of suicide.
To register: http://events.constantcontact.com/register/event?llr=fhxw8kfbb&oeidk=a07ejmzjm0rda9ae5df
Those who cannot attend the live event may pay a $50 fee for access to the recording, but must still register. Information on how to pay the fee will be emailed.