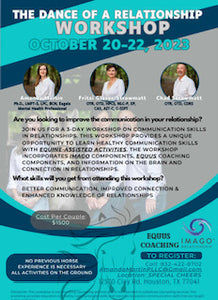 The Dance of a Relationship Workshop - October 20-22, 2023
Are you looking to improve the communication in your relationship? Join us for a 3-day workshop on communication skills in relationships. This workshop provides a unique opportunity to learn healthy communication skills with equine-assisted activities. The workshop incorporates Imago components, Equus coaching components, and information on the brain and connection in relationships.

What skills will you get from attending this workshop?
Better Communication
Improved Connection
Enhanced Knowledge of Relationships
Important Equus Information:
No previous Horse experience is necessary
All activities on the ground
Disclaimer: This workshop is not providing counseling services and is not intended to substitute counseling services. The workshop provides education on healthy communication skills and exercises to practice communication skills that are taught in the workshop.
For more information, contact Amanda Martin at amandamaritnpllc@gmail.com