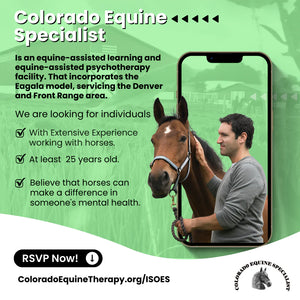 Equine Specialist Hiring Event - Colorado
🐴❤️🐴❤️ We are looking to add to our team! ❤️🐴❤️🐴
Do you believe  that horses can make a difference?
Have they impacted your life in a way that has helped you grow?
Because you have extensive experience working  with horses, would you love to make a career out of this?
My name is Marie Hancock, and I am the owner and director of Colorado Equine Specialist. We serve the Denver front range communities, with equine-assisted psychotherapy and equine-assisted learning.
At CES, we utilize the Eagala model. Within that model, there are always  2 professionals in every session, a licensed mental  health  professional, an expert in their field, and an Equine Specialist expert in their field. Both provide a very educated, professional,  and ethical approach when incorporating horses into a mental  health  session.
We have had one of our best years yet at CES, and we need to add to our team of Equine professionals.
If this is something  you would like to know more about, come to our hiring event on February 5th from Noon to 4pm.
You will experience a demo, and then I will take some time talking about what a career at CES looks like.
Please RSVP by clicking on the following link
www.ColoradoEquineTherapy.org/isoes