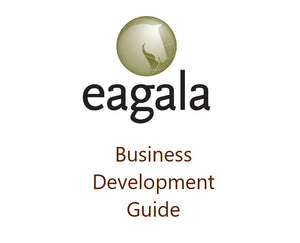 Eagala Business Development Guide (may only be purchased by currently certified members, 1 electronic copy per certified member)
Regular price $75.00 USD Sale
For every person starting an Eagala Model business, or wishing to take their current business to the next level.  This step by step interactive guidebook provides over 100 pages of information and interactive tools which takes you through: 
Eagala business basics such as becoming an entreprenuer, choosing strategic partners, and the "eleven must haves!"
Strategic Planning - what it is, why to do it, and a step by step guide taking you through the process, including creating your vision and mission
Creating a business plan
Sample business forms
You will also receive 32 already made Spreadsheet tools you can used to "fill in the numbers" from things such as budgeting and determining what to charge to ensure you arrive in the black.
This is a living document - with member feedback and input, more will be added.  You will receive FREE upgrades of this guide for as long as you wish to remain on the list.
The guidebook is provided as an e-book with attachments and will be emailed to you once your purchase is processed by the Eagala office.  Please still allow up to 7 days for it to be emailed. May only be purchased by currently certified members, 1 electronic copy per certified member.