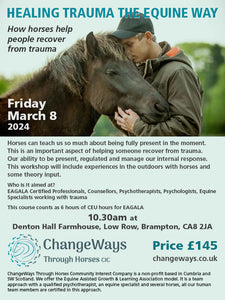 Workshop: Healing Trauma the Equine Way - March 8, 2024 Cumbria, United Kingdom
Title:  
Healing Trauma the Equine Way
Facilitators:  Coral Harrison, Child & Adult Psychotherapist & Olivia Drinkwater, Equine Specialist, British Horse Society Accredited Coach
Who is it aimed at?  EAGALA Certified Professionals, Counsellors, Psychotherapists, Psychologists, Equine Specialists, Volunteers working with traumatised people.
This course counts as 6 hours of CEU hours for EAGALA
Tickets can be booked via Eventbrite https://bit.ly/45BD7bs
Course Outline: 
Horses can teach us so much about being fully present in the moment. This is an important aspect of helping someone recover from trauma. Our ability to be present, regulated and manage our internal response.  This workshop will include experiences in the outdoors with horses and some theory input.
The workshop will take place in a rural setting. Participants will need to wear study footwear and clothing suitable for the weather conditions on the day.
Aims:  To provide participants with an understanding of the stabilisation stage of working with psychological trauma. How early trauma affects development of the brain and the most appropriate interventions to support recovery. There will be an emphasis upon the importance of self-awareness and establishing safety for clients. This will be facilitated through the experience of equine assisted learning. Participants will be encouraged to adopt a mindful approach to the work.
Pre-course requirements:  There are recommended resources that will assist your learning on the day. These will be included in an email following your booking,
Learning Outcomes:
• Gain experiential understanding of equine assisted learning and psychotherapy and how this can support trauma recovery
• Enhance self awareness and the importance of being regulated when working with traumatised clients
• Learn about the stabilisation stage of therapy and building safety for the client media